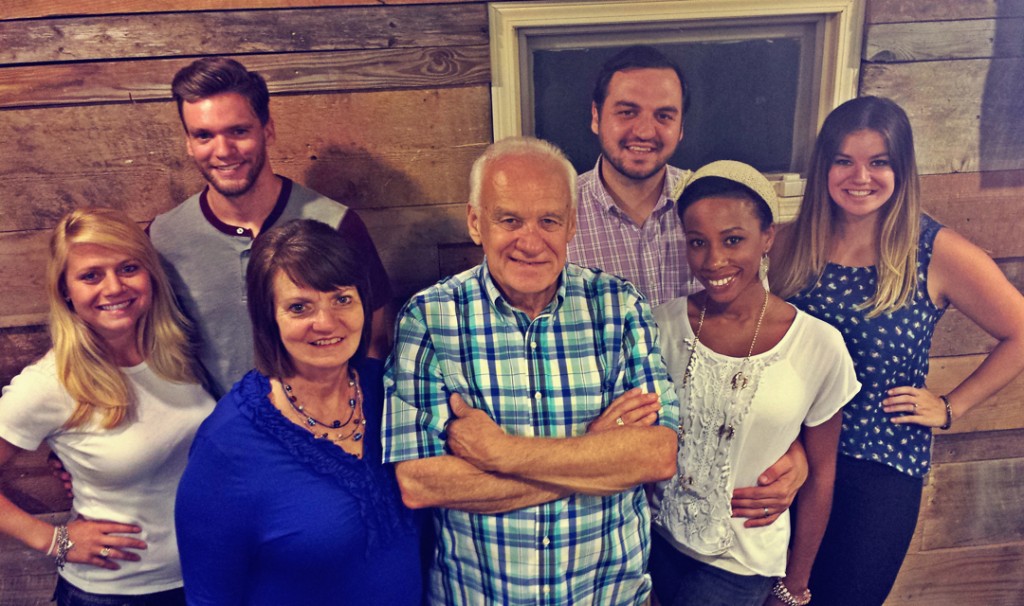 Larry Block | Senior Pastor
This man, born to Bible college students, saved at age 5, and baptized in the Holy Spirit at age 7 has a resume in ministry a mile long. But it's not his pedigree that sets him apart, its his annointing. When asked about his ministry he sites that training young people has always been a calling in his life evident directly by looking at his 5 children who all serve in full-time ministry. He also mentions his passion for music as he recalls the 10 years he spent on the road as an Evangelist and Gospel Music visionary. He says, "Singing is a great way to spread the good news of the Gospel and the Lord has blessed me with a talent to play many insturments as well… piano, organ, guitar, trumpet, saxophone, to name a few."
Pastor Block is a man who hears God's voice and carries out that voice in vision for his ministry. When speaking about the vision for ES First he says, "We have only just begun as without a doubt I sense a new move of God for today and the upcoming years."
Larry loves spending time with people over steak dinners and with his children over Sushi dinners. He loves to fish and golf as often as possible but says, "All in all my favorite thing to do is spend lots of time with my beautiful wife Nancy Joe who is an inspiration to me in whatever challenge I pursue."
---
Nancy Joe Block | Associate Pastor
Her love for people, her compassion toward young people, and her great passion to continue reaching the next generation with the story of Jesus Christ are the driving forces behind all of Nancy Joe's ministries at ES First.
While she has always been the Associate Pastor to her husband, Senior Pastor Larry Block, she has moved around the grid in her other leading roles. She began her ministry at ES First as the youth pastor in 1996, took on the role of Evangelism Director in 2000 and finally landed amongst those she's truly passionate about in 2006 when she assumed the role of Director of Children's Ministries.
Nancy Joe has worked diligently over the years to develop leaders to serve and minister to children for Sunday mornings as well as all of our Midweek service programs.
When she's not directing, Nancy Joe loves to get out and go! She enjoys traveling to see her grandkids and her sister and loves discovering new and historical places all around her.
---
Brandon Block | Associate Pastor – Worship Minister
Brandon is the Associate Pastors at ES First. He fills a wide variety of roles including Discipleship, Outreach,  and Men's Ministries. Brandon is an energetic speaker who brings life and clarity through the Word of God to people from all walks of life.
Brandon has served ES First as Worship Pastor for 15 years and prior to becoming Assistant Pastor in 2013 he founded The Source Youth Ministries in 2001.
---
Jonathan Block | Children's Pastor – Student Pastor
Everyone was once a student, and has memories from those times….whether good or bad these times changed and directed your life. Pastor Jonny draws from those moments in his life to direct the students of ES First.
Jonny started out young in his ministry volunteering anywhere and anyway he could. From cleaning to speaking. He worked doing anything that needed to be done for years and when the time came for him to take on more responsibilities at ES First, he didn't hesitate.
Pastor Jonny now teaches KidFirst! (k-5) and The Source Student Ministries (grades 6-12).
He is passionate about growing Gods Kingdom. He says, "God is an exciting thing to experience and every time I come into contact with the students of ES First, I work to translate that fact keeping in his mind that these times in students' lives need spiritual guidance, encouragement from adults, and motivation to do what God has destined them to accomplish!"
---
Allison Weedin | Communications Director – Worship Leader
Allison is no stranger to the office at ES First. Beginning in high school she was on scene running copies, sending out letters, and looking for ways to improve the day to day operations. After college she knew where she belonged, right back in the office at ES First putting her new skills to use in marketing, media, and communications to work for God.
With a hand in every form of communication that happens from social media to weekly bulletins and website development, she works diligently to make sure everyone stays informed about what's happened, what's happening, and what will happen within this organization. She even finds herself running the occasional copy or sticking a letter in the mail.
Additionally, Allison is a worship leader at ES First where she uses her passion for music to connect to God every week.